Waterproof, tarnish resistant.
After years of wearing jewelry that would lose the color in a few usages we understand that it is hard to believe that we have found a solution.
How is your jewelry waterproof?
We have 2 secrets: Stainless Steel & PVD.

Unlike lots of other materials commonly used in jewelry, stainless steel is a highly durable, recyclable metal. It's also affordable which means a very accessible price point. PVD coating is a unique technique. This new, modern way of plating.
The stainless steel is highly durable metal that doesn't oxidize or rust - meaning, it doesn't turn green - it happens because it has chromium in its composition. This results in tarnish resistant and waterproof metal.
Stainless steel is a very stable and non-reactive metal, it won't cause irritation on skin and is classified hypoallergenic for sensitive skin.
We use a coating process called PVD "Physical Vapor Deposition" to coat our jewelry in gold tone.
Gold PVD coatings a vacuum coating process, that produces decorative finishing & can be 10 times thicker than standard gold plating. It's extremely durable and resistant to corrosion and u utilizes a titanium nitride
No polluting substances are produced and no toxic residues from any stage of the process exist to poison our planet.
MYJN stainless steel collection that designed to be worn everyday. We are selling and wearing our stainless steel collection for 2 consecutive years without major issue.
What is stainless steel?
316l or 304L stainless steel are highly corrosion-resistant and durable material. If you're tired of high-maintenance jewelry, stick with stainless steel as it's resistant to rust, discoloration, and oxidization
Why stainless steel?
Most of our jewelry are made of surgical level stainless steel. It's tarnish free, water resistant and hypoallergenic jewelry for the modern muse.
Both genders will likely wear stainless steel jewelry because of its versatile nature.


Value
Despite of quality, the price point is significantly lower compared to gold vermeil, sterling silver etc.
Environmental-friendly
Stainless steel is 100% recyclable. These days, materials are starting to become scarce on our plant, it is good news that this shiny material is 100% recyclable. Apart from affordability, beauty, low maintenance, you will be using a recyclable material and supporting the environment !
Hypoallergenic
We have to be honest, it still contain a small amount of nickel. However, to all the allergy prone women out there - Stainless Steel pieces compare to brass and copper pieces are much more safer. It should not irritate your skin. It has proven to be a real alternative to all other metals.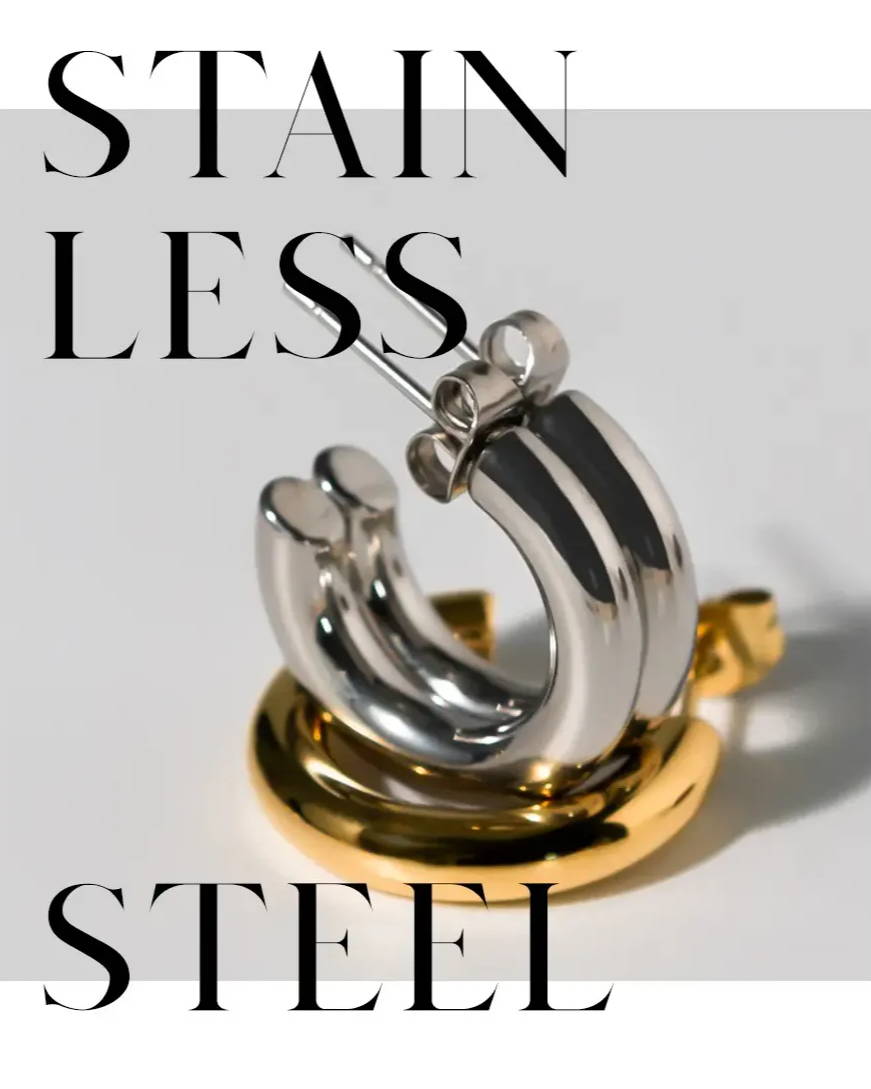 How to care stainless steel jewelry :
1. Daily wear, shower, exercise - no problem
Corrode or rust resistance. Water, sweatproof It is safe to wear stainless steel jewelry in water and exercise.

2. To clean

Clean MYJN stainless steel pieces with warm water, detergent-free soap and a soft cloth. When the jewelry gets wet or dirty, clean it with a dry cloth and leave it to air dry.
3. To avoid
Keep it away from chemical materials such as perfume, that hurts the gold layered.

Being waterproof is not enough. We are committed to do more. Offsetting is great, but not producing CO2 is better.
Every stainless steel pieces is covered by our 365 days warranty. Our warranty covers the colour fading issue, clasp/chain breakage, repair on damaged jewelry, lost gemstone/diamonds. We will send store credit/exchange for the item.